Sometimes we can be ambiguous.
This article is about the webcomic chapter Report 12. For the anime episode
Report 12
, see Episode 12.
The Support Division's Job
(サポート課の仕事

,

Sapōto Ka No Shigoto

)
is the twelfth chapter of
ReLIFE
.
Synopsis
Arata asks Ryo to explain what's going on, what is Ryo doing there.
Characters
Edit
Ryō and Arata sit down for lunch in the school cafeteria. Irritated, Arata demands an explanation for the events of the day so far, and as he heard during the student introductions that Ryō was in the school the previous year, he questions whether Ryō really is an adult or a high school student. Ryō calmly explains that he is an adult and that he took the same pill as Arata did, as it is necessary for him to observe Arata in school in order be able to report on his progress in the experiment – and that the reason he did not tell him sooner was simply that he wanted to see his reaction.
Ryō reveals that he actually started in the school as a first-year, explaining that before getting and actual subject to support and observe, ReLIFE support staff do a training period testing the pill on themselves, which also helps avoid suspicions compared to entering school at the same time as the subject. When Arata notes that Ryō is taking his job quite seriously staying in training for two years, Ryō admits but quietly thinks back to an experiment report which refers to Subject No. 001 (in Ryō's reports Arata is shown to be Subject No. 002), and in his mind apologizes to Arata for telling him a one-half truth and one-half lie.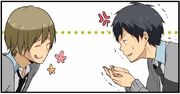 Ryō then asks Arata how he feels about school so far, getting Arata angry for not preparing him better for the first-day tests. Depressed, Arata tells Ryō that he was not able to solve the problems even though he believed he would be able to do so from his past experience, and questions why he had to be placed on the most demanding school year. Ryō explains that having to work is the whole point of helping a NEET return to work life, and matter-of-factly reminds Arata that his progress in the experiment will be evaluated, challenging him to take his situation more seriously. Unnerved by Ryō's tone, Arata promises to improve.
Both Yoake and Kaizaki ordered ramen for lunch.
The events in this chapter took place on April 8th, 2013.
The "half lies half truth" is explained in Report 117
Community content is available under
CC-BY-SA
unless otherwise noted.