Sometimes we can be ambiguous.
This article is about the webcomic chapter Report 13. For the anime episode
Report 13
, see Episode 13.
Easy Life
(無難な人生

,

Bunan Na Jinsei

)
is the thirteenth chapter of
ReLIFE
.
Synopsis
Ryō and Arata's conversation turn towards the type of life Arata wants to have during this one year.
Characters
Edit
Arata is reminded of An, the other transfer student in the class, and asks Ryō if she might be another subject in the ReLIFE program. Ryō explains that transfer students are common in the school because it is attached to a university they can go to after graduation, and the school was in fact chosen for the program as that makes it easy to plant fake students. He teases Arata for asking about her, suggesting that he might want to enjoy the romantic opportunities that come with being a high school student. Arata denies, as he wants to focus on completing the program for the prospects of getting a job after it ends, and does not see the point of getting involved with someone when he has to vanish from their life and memories.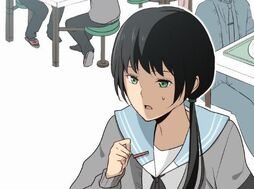 As Ryō responds that it is really up to the subject to choose how he wants to live his student life, Arata notices their classmate Chizuru Hishiro having problems with a cafeteria worker at the counter, pointing at her collar and apparently having some kind of request denied.
Both Kaizaki and Yoake have already finished eating their lunch by the beginning of this chapter.
The events in this chapter took place on April 8th, 2013.
Community content is available under
CC-BY-SA
unless otherwise noted.