Sometimes we can be ambiguous.
This article is about the webcomic chapter Report 14. For the anime episode
Report 14
, see Episode 14.
Unexpected and Unintended
(不意打ちに不覚にも

,

Fuiuchi Ni Fukaku Ni Mo

)
is the fourteenth chapter of
ReLIFE
.
Synopsis
Arata checks out the commotion around Chizuru.
Characters
Edit
Arata recognizes Chizuru and wondering if she's in trouble, decides to go over and see for himself. Ryō teases him again, and wonders to himself if Arata is going to succeed in staying uninvolved with his fellow students.
At the counter Chizuru recognizes Arata as 'the cigarette guy', to his regret. She explains in a stand-offish manner that she did not think she would need to bring lunch money, hoping to eat for free because she would place first in the tests again. Arata does not understand what she means, and thinking she forgot her money, offers to lend her 1000 yen. She is annoyed by Arata equating her not bringing money with forgetting it, and questions how could it be so easy for a high school student to lend her a sum more than three times the price of school lunch – it's almost like he was an adult.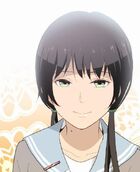 Nonetheless, after Arata gives a panicked but appropriate explanation, she apologizes for her behavior and accepts his help with a genuine smile and a polite bow, promising to pay him back the next day. This leaves Arata surprised and blushed as he notices his heart rate rising. He berates himself for reacting like he could be having a high school girl as a partner, and turns around to see Ryō grinning at him.
1000 Japanese Yen is roughly comparable to 10 US Dollars.
The events in this chapter took place on April 8th, 2013.
Community content is available under
CC-BY-SA
unless otherwise noted.