This article needs more information.
This article is a stub. You can help ReLIFE Wiki by expanding it.
ReLIFE ① is the first volume of webcomics published in book form. It was released on August 12, 2014. ISBN 978-4-8030-0595-0
Dust Jacket
Edit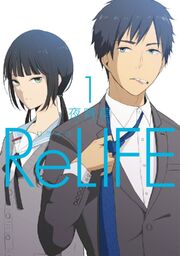 The front of the dust jacket features Kaizaki in his adult form wearing a suit plus Hishiro in her school uniform.
On the side, the same artwork for Kaizaki is reused.
The back of the dust jacket features Kaizaki as a teen walking alongside Hishiro, with Onoya and Yoake trailing behind, all wearing school uniform.
Inner Cover
Edit
The inner cover of the book features one 4-coma comic strip in the front and one in the back.
The front 4-coma is features Kaizaki preparing his book bag for school tomorrow, when suddenly he starts to question what the heck he is doing.
The back 4-coma is features Hishiro doing homework, ran into some difficulty and search on the web, then got distracted into search for easy ways to make friends.
Contents
Edit
Volume 1 contains reports 1~19 of the original webcomic, edited to fit the book form factor (same panel art, but the panels and speech bubbles are moved/resized). It also includes an original chapter labeled Bonus report.
The end panels of the following chapters are not included in this volume:
Overview
Edit
Thumbnail

Original Name


English
Synopsis
report1. 海崎新太(27)無職
Arata Kaizaki (27), Unemployed
Arata Kaizaki has been unable to land a job given a record of quitting after 3 months on his resume. To make matters worse, his parents is cutting off monetary support for the 27-year-old son!
report2. 情けない
Pathetic
In front of his friends, Arata still pretends he has a job. As he wonders how his life end up like this, a stranger appeared before him...
report3. 被験者
Test Subject
In exchange for one year of living expenses and a potential job referral, the stranger wants Arata to participate in a shady-sounding experiment...
report4. 変人と
Weirdo
Arata woke up the next morning and realize in his drunkenness the night before, he had taken the shady pill that makes him look younger! Meanwhile Ryo pays Arata a second visit...
report5. 契約完了
Contract Complete
Ryō briefed Arata more on the details of the experiment, threatening him that if word of the experiment leaks out, Arata's memories will be erased!
report6. 落ち着かない
Can't Calm Down
First day of school, and Arata is already nervous of being found out he is an adult. A surprising face shows up as his classmate...
report7. 時代は違えど
Generation Gap
Learning that Ryō has been attending this school as a high school student the previous year puts Arata in a state of confusion. In the meantime, Arata finds out that the girl whose seat he mistakenly took earlier is the smartest student of their entire grade.
report8. 学生満喫?
Thrilling Student Life
As the students continues to do self-introductions, Arata makes an effort to remember the names of people seated around him. Then to Arata's surprise, the class is having a test!
report9. 習慣の違い
Different Habits
Arata realized he didn't prepare a pencil case at all. Meanwhile, Ms. Amatsu discovered the cigarettes that Arata kept in his bookbag!
report10. 屈辱だけど
Insulting, But...
The entire cigarette commotion was quite a shock to Arata, enough for him to momentarily forget that he didn't prepare a pencil case...
report11. 徐々に巻き込まれ
Getting Involved
During break time between tests, Arata strikes up a conversation with Rena and Kazuomi.
report12. サポート課の仕事
The Support Division's Job
Arata asks Ryo to explain what's going on, what is Ryo doing there.
report13. 無難な人生
Easy Life
Ryō and Arata's conversation turn towards the type of life Arata wants to have during this one year.
report14. 不意打ちに不覚にも
Unexpected and Unintended
Arata checks out the commotion around Chizuru.
report15. 長い一日
Long Day
Ryō explains the silver pin system at Aoba High
report16. 恩師の歳を越えた今
Now That I'm Older Than My Teacher
After school, while Arata is being scolded by Ms. Amatsu, he came to appreciate how seriously she takes her job.
report17. コミュニケーション能力0点
Communication Stat: 0
Arata learns about Chizuru's lack of social skills.
report18. よく言えました
Well Said
Chizuru takes a step forward trying to change herself and make friends.
report19. それぞれの反省文
Essays for All
Arata works on his apology letter while calling Ryō to ask about how smoking in his current body might affect him. Ryō finishes his observation report on Arata's first day of school.
Bonus report.
Bonus Report
After signing up for the ReLIFE experiment, Arata starts to call his friends and family to let them know he'll be out of touch for a year. Then he asks Ryō for a pill to turn his body back to an adult...
Community content is available under
CC-BY-SA
unless otherwise noted.